Visit Minnewaukan, ND
Pictures and Information
If you plan on traveling to Minnewaukan, here's some pictures and information on the campground and other lodging there.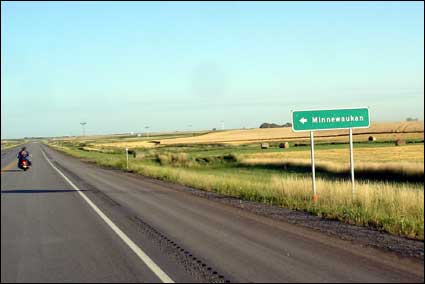 We didn't spend very much time in Minnewaukan, we sort of just drove through to see what was there. We were on our way back from Devil's Lake ND
It was getting towards the sunset, so I took as many pictures as I could. There were some children playing in the street with skateboards. At the entrance to town there was a large bell.
We stopped to rest at the American Legion Park in downtown.
More Pictures of Minnewaukan
-a picture taken as we were heading east into Minnewaukan
-American Legion Park Post 86
-driving around town we ran across the Helberg Lodge
-the Minnewaukan water tower
-Spirit Water Inn Resort... Spirit Water Inn sign and phone number... another sign
-visit their website Spirit Water Inn
-Devil's Lake is in the distance around this curve, and a sign for a marina
-West Bay Resort and Bait Shop
-a church with steeples... St. Peters Catholic Church sign
-a carved Indian head
-the Minnewaukan Post Office 58351
-the warning bell as you enter town
-the sunset as we were leaving Minnewaukan
-a combine, harvesting in the sunset
Continue traveling to Esmond, ND

---