Jamestown, ND Attractions
Frontier Village, Largest Buffalo in World
Jamestown ND was one of our stops on the way back to Southern So Dakota. We had heard that they have the World's Largest Buffalo there and also a white buffalo. We were in for a treat. On this page are all the pictures I took in Jamestown. I was also surprised to see that the James River flows around Jamestown, because the James River also flows through South Dakota near us in Olivet.
I liked Jamestown ND immediately. It seems to be growing leaps and bounds too. There was a lot of road construction going on, especially widening the roads toward Interstate 94. On this main street, there are quite a few businesses too, like a Big Kmart, and a Buffalo Mall, here's the Buffalo Mall sign, and parking area, I wish we could have gone inside.
We stayed in an RV campground while we were in Jamestown called Frontier Fort. It is a small campground, with a gift shop nearby with a baby buffalo. There is also a restaurant there called the Chuckwagon, that has a buffet, but we did not eat there, we opted to go into town and eat at the Pizza Ranch, but wound up eating at Grizzly's restaurant next to Walmart.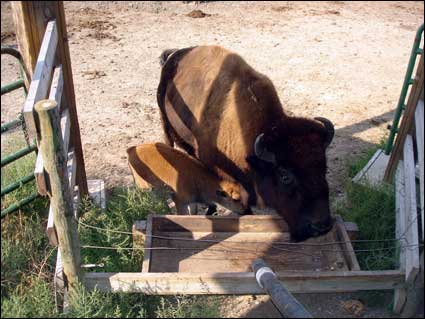 The next day we went to see the baby buffalo and went to Frontier Village to see the World's Largest Buffalo. There is also a buffalo museum there which we enjoyed browsing, and bought several things from the Buffalo Gift Shop.
More Pictures of Jamestown
-view of Sears in the Mall.
-view of the Holiday Inn Express and Comfort Inn The Days Inn is across the street
-the turn to go to Frontier Village
-a Jamestown water tower... water tower
-St. James Basilica... view... front entrance... side... back
Pictures of Frontier Fort and Village
-the Frontier Fort sign on the gift shop... Frontier Fort sign
-a view of Frontier Fort gift shop... gift shop... souvenirs and black hills gold sign
-the baby buffalo and mama in the gift shop... baby buffalo
-a sign that says "Fort Ransom 3 Days"... fort ransom sign
-unique gifts and baby buffalo sign... sign... World's Largest Buffalo 3 blocks sign... sign
-a view of the small RV campground... another view
-the RV campground is next to the restaurant... RV campground... bath house, laundromat
-view of Jamestown N Dakota from the fort... Jamestown ND view
-a Don't Litter sign on the campground restroom door... Don't Be a Litter Critter... restrooms
-a craft store by the campground called Comforts of Home... Comforts of Home
-murals painted on the fort... blacksmith... saloon... general store

Watch our Frontier Village Walk-thru
-antiques and collectible shop in Frontier Village... antique shop
-the railroad depot had antiques too and lots of railroad stuff... railroad crossing
-the hubby sits in a giant rocking chair... giant rocking chair
-shops on the north side of the street... dentist, post office etc.
-Author Louis L'Amour shop... his desk... his father... his youth... his books... old pictures... sign
-Butt buckets... yellow bucket... purple bucket
-Full view of Frontier Village... Frontier Village
Pictures of the Buffalo Museum
-the stagecoach turning around in the museum parking lot... stagecoach turn around... another view
-passing the Buffalo Museum... Buffalo Museum view
-view of largest buffalo from the museum... largest buffalo view ... the sign for White Cloud
-front entrance to the Buffalo Museum, Elle is looking at a Peace Pole... front entrance... Peace Pole Information
-the buffalo sculpture in front of the museum... buffalo sculpture
-inside the buffalo museum... inside displays... buffalo painting and displays
-an information board about the value of buffalo bones in the 1800's... buffalo bone value
-information about the buffalo hunters... buffalo hunters... buffalo history
-what is a buffalo gun? Information from Cody Firearms Museum... Sharps 1863 Saddle Ring Carbine... history
-the legend of White Buffalo Calf Woman... white buffalo display
-one section of the museum has a lot of Sioux Indians items like a tepee, clothing, and a buffalo hide boat
-Almost anything you can think of about buffaloes is in this museum, even a ten dollar buffalo bill, and a buffalo license plate.
We highly recommend that you visit the museum and Frontier Village.
Tourist Brochures
-about Jamestown... Points of Interest
-Jamestown Recreation
-Jamestown Campgrounds
-Jamestown's Parks ... some Summer and Fall Events
-Churches in Jamestown... more churches
-Map of Jamestown... Accommodations
-Jamestown ND Restaurant List
-Jamestown Important Telephone Numbers
Jamestown, ND Websites
---