1880 Town Pictures
SD Tourist Attraction
If you plan on traveling west on I-90, you will see some signs for the 1880 Town. We stopped here on our last trip to the Black Hills to check it out. It's really cool, particularly if you like to view some historical buildings. The 1880 Town is a mom and pop operation, and we always like to support the locals. There is a gas station there too with restrooms.
Here's a picture of the sign in the parking lot. Pretty funny!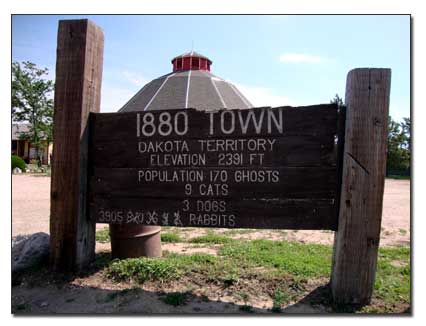 They have a gift shop inside that is fun to browse. Here's a picture of me in a funny hat.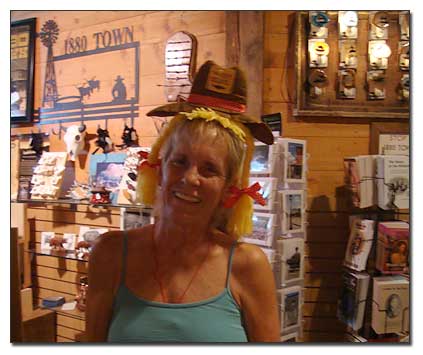 And they also have a 1950's train diner featuring a cafeteria/restaurant. The train is full of 1950's memorabilia.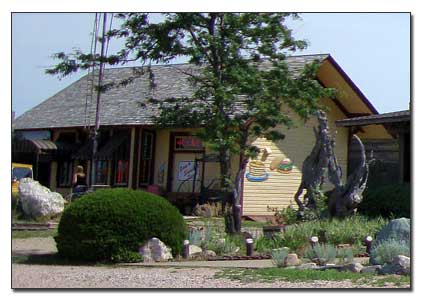 I wish we could have spent more time here browsing around, but our time schedule wouldn't allow it. We'll be sure to go back!
Directions: Interstate I-90 to Exit 170 .... Phone number: 605-344-2236
1880 Town open from May to October... see hours open
Here's some pictures of the 1880 Town Brochure
-layout of what's inside the 1880 town... what's inside
-partial brief history... brief history of the 1880 town
-advertisement for the dining car restaurant... 1950's train diner ad
-ad 1880 Town Longhorn Ranch... you get to see the Longhorn Ranch
-camping located 1/4 mile north... camping nearby
-Love for the Land show they hold inside... live show SD history
-contact information for group rates... contact information
More Pictures of the 1880 Town
-a larger picture of the entrance sign... entrance sign 1800 town
-a larger picture of the 14 sided round barn entrance.. barn front entrance... another view... pink quartz boulder
-close-up of the sign above the barn door... barn sign above door... larger view of sign
-picture of the large parking area... parking area
-larger picture of me in the gift shop... gift shop
-larger picture of the train restaurant... train restaurant

Visit the 1880 Town website
Now, see what we saw on our next stop to Wall Drug! Fun!
---