Visit Mitchell South Dakota
Pictures and Information
Traveling north from Tripp South Dakota on Hwy 37, you come to the city of Mitchell. Mitchell has a population of 14,558 and is the closest "large" city to Tripp, 30 miles to the south. I suspect that most people that work, commute to either Mitchell, Yankton, or Sioux Falls.
Mitchell is growing into a large city quickly. All the major hotel chains seem to be located on the south side of Mitchell, and some major shopping stores like a Superwalmart, Menard's, and Cabelas. Cabelas also has a Saturday and Sunday Breakfast Buffet for $6.99.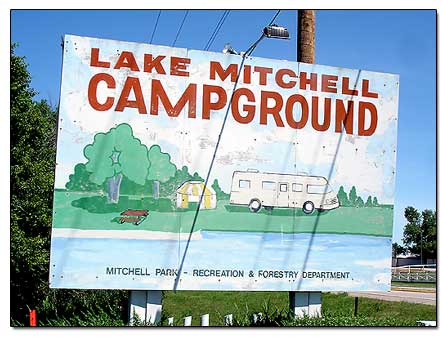 On the north side of Mitchell, however, there is also some shopping centers, along with an outdoor drive (which is now defunct... boo hoo) Starlite Drive In, and the Lake Mitchell Campground.
Probably the most popular attraction in Mitchell is the Corn Palace, which is located on Main Street in the historic business district. It is not hard to find because there are signs on every street directing you to it. They change the theme of the Corn Palace artwork every year. Yes, it's made from Corn on the Cob. This year the theme is "A Tribute to Rodeo 2007"
Also while in Mitchell, visit the Dakota Discovery Museum, and the Prehistoric Indian Village.
More Pictures of Mitchell
-Chef Louies Bull must be a landmark, it sits right next to the Corn Palace Motel... Chef Louie's Bull... the buffalo
-Alleyway in downtown area... alleyway in downtown area
-A view looking south on Main Street... Main Street
-A picture of the Highland Mall on Hwy 37 south... Highland Mall... Dollar Loan Center and Riddles Jewelry
-Ruby Tuesday Restaurant is next to the Hampton inn in South Mitchell... Ruby Tuesday
-Pilot Gas Station and Travel Center, South Mitchell and Hwy 37... Pilot Gas Station location
-A list of all parks and recreation locations in Mitchell... Mitchell Parks locations list

Corn Palace Pictures
-First view approaching the Corn Palace... first view
-Parking area west of the Corn Palace... parking area
-A picture of icecream shops in the parking area... Ziggys and Dakoga Treasures shops
-T-shirts, souvenirs and Black Hills Gold shops... T-shirts, souvenirs and Black Hills Gold shops
-Uncle Zekes shop with Black Hills Gold... Uncle Zekes shop
-The Trading Post is located across from the Corn Palace... Trading Post
-First full view of the Corn Palace... first view of the corn palace
-A closer view of the artwork... corn palace artwork.. rodeo closeup
-The Corn Palace Gift Shop... gift shop sign
-A picture looking south from 6th Ave. and Main, at (former) Sundaes More... Sundaes More Restaurant
-The Blues Brothers sat on the corner of 6th Ave, in front of (former) Sundaes More... Blue Brothers... waitress specials
-There is also a cute hot dog statue, very tempting to go inside to eat... the best hot dog... hotdog closeup
-We walked across the street to the Corn Palace... view looking up... detail... corn on the cob boots
-Then a tour bus arrived and parked in front of the tourist shops... tour bus and shops
-Next to the tourist shops is a castle called Enchanted World, with Doll museum... Enchanted World Castle Museum
-Another picture of the Enchanted World Castle Doll Museum
-The picture I took as we were crossing the street... Main Street looking south
-On the corner is a clock, put there by the Rotary, with the 4 Way Test.... Rotary Clock
-At the bottom of the Rotary Clock are names of businesses in stone like the... Holiday Inn
Hotels and Motels in South Mitchell

Mitchell, South Dakota - Mitchell motels
-Holiday Inn Mitchell,Sd 1525 W. Havens Ave
-Best Western Motor Inn 1001 South Burr Best Western... another view
-Mitchell-Days Inn 1506 S. Burr
-Econo Lodge Mitchell 1313 South Ohlman
-Comfort Inn Mitchell 1117 S. Burr St. next to the Highland Mall... Comfort Inn
-Next to the Comfort Inn is the Hampton Inn... Hampton Inn
-Kelly Inn And Suites - Mitchell 1010 Cabela Dr Kelly Inn
-Thunderbird Lodge - Mitchell 1601 South Burr St
-Super 8 Motel - Mitchell I-90 at US Highway 37, Exit #332 Super 8 Motel, and RV parking
-Rondees Campground and Indoor Waterpark... Rondees Campground and Indoor Waterpark
-The Days Inn advertises an indoor waterpark too... Days Inn... another view of the Days Inn
-AmericInn Lodge and Suites... AmericInn Lodge and Suites
-The location of the Quality Inn, next to Country Kitchen Restaurant... location of the Quality Inn
Lake Mitchell Campground
-The entrance to the Lake Mitchell Campground... entrance... another view... closeup of the sign
-Lake Mitchell Campground camp rules... camp rules
-A picture toward the campground... camping
-Lake Mitchell campground office... campground office
-The playground and restrooms near the campground office... playground
-Lake Mitchell brochure, camping rates and campground map... camping rates and campground map
---