Scotland SD Pictures
Houses For Sale
Scotland, South Dakota is a small town located not far from Tripp SD. When we drove to check out Kaylor, we headed to Scotland to see what was there.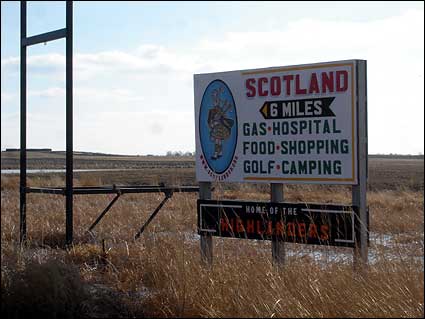 Scotland is a much larger town than Kaylor, my guess, with a population of about a 1000.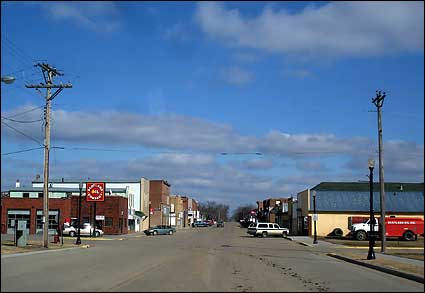 We drove around this cute little town for awhile, then as we were heading out of town, we ran into Lake Henry. Lake Henry is located east of Scotland.
So, below are some pictures of Lake Henry too. According to the sign, there is only fishing and picnicing allowed here, no camping.
Here's a map of Scotland, SD
Events in Scotland
-Haunted House 2011 - Thanks to all who supported the Haunted House this year!
Pictures of Scotland SD
-A picture of the Scotland water tower... a full view of the water tower...another view
- Scotland Veterans Memorial
-A home with a unique brick front porch. Pretty cool!
-Another home with some unique brickwork... located at Fourth and Main
-The Scotland Post Office 57059
-a building being restored... building restoration
-typical neighborhood view in Scotland
-The Good Samaritan Nursing Home
-on the east side of Scotland is the city park, swimming pool, playground, and athletic fields
-the Scotland cemetery located on the north edge of town
Pictures of Lake Henry
-entrance to Lake Henry... read the rules and regulations signs
-location of the Lake Henry welcome sign
-Lake Henry looking southwest... a view of Lake Henry with Scotland in the distance
-looking north from the road, Scotland in distance
-they built a new picnic shelter
-on the south side of the lake there was ice fishermen
-a sign that says, "No Vehicles Beyond This Point."
-a view looking southeast of the lake
-Lake Henry dam is called the Wm. J. Janklow Dam
-leaving the lake, here's a pond in a field, then we headed back to Tripp, SD
Some Businesses in Scotland
-Rettedal's Department Store - 583-4115
- Pietz Kuchen Kitchen - Visit the Kuchen King!
- The Rec Bar- located on Main Street, has bowling alleys and a couple pool tables. Go have a GREAT pizza!
-Picture of the Scotland Oil Company, and Sioux Nation AG location
- Kronaizl Insurance LLC and Flowers are More location
- Scotland Chiropractic building
- The Steak Lounge and S.A.S,
- Amy's Style Shop... For Ladies and Men
- Northwestern Electric Company and the Rec Bar
- The Main Hideout Bar
- German Mutual Farmers Insurance Company and a gas station
- The Scotland Journal newspaper office location
- TLC Daycare
- The Scottie Stop Gas and Convenience

---