Visit Tyndall, SD
Pictures and Information
Since we live in Tripp, SD, occasionally we make a trip to Tyndall because we found out they have the closest Dairy Queen to us. The Dairy Queen is located on SD Hwy. 50, and you can't miss it. I believe they are open till 9 pm.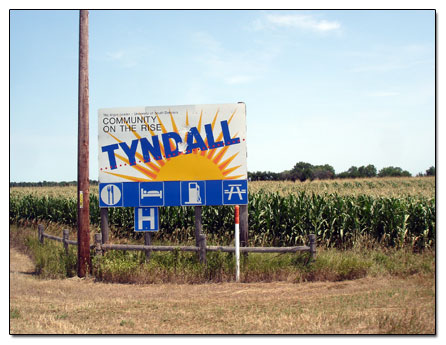 Anyway, the last time we were in Tyndall, I took some pictures of some businesses located on Main Street. This may help you if you are planning on moving to Tyndall, at least you can see a little bit of the town.
When you first turn down Main Street heading north, the first thing you see is the Veteran's Memorial, then they have a motel there called the Shady Rest Motel. After passing the motel, I was amazed to see a big pile of corn by the grainery.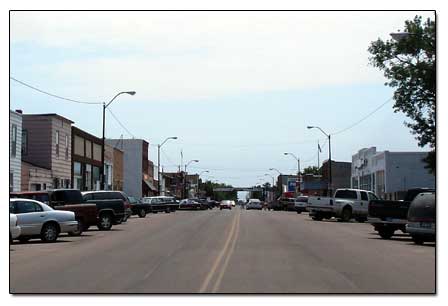 After Thanksgiving we drove to Tyndall to pick up a manifold for our 1990 Jeep Wrangler. Tyndall already put up some holiday street decorations. We stopped at the NAPA Store on Main Street. Diane's Dollar Store is right next to NAPA Auto Parts, so while the hubby was picking up his auto part, I went into Diane's to check it out. It is a really cute little store. I bought one of those "touch lamps" for a friend in Armour SD for Christmas. Diane was at the counter, we talked for awhile, and I told her we would come again. Honestly, I can't wait to go back to Tyndall. I would like to browse all of the stores there.
During the summer, we also drove through Tyndall on our way to Tabor for the Tabor Czech Days.
Pictures of Tyndall, SD
-the Tyndall water tower... water tower... another picture
-the Tyndall Cemetery is located on the West side of town... Tyndall Cemetery
-Hardware Hanks... Hardware Hanks
-the Corner Bar and Zieser and Rothschadl Law Office... Corner Bar
-the US Post Office 57066... US Post Office 57066
-Cafe Bowling.... Cafe Bowling
-The Corral... The Corral.... The Sportsman Rendezvous
-Gemar's Market... Gemar's Market... another view
-The Tyndall Tribune and Tyndall Variety Store... Tribune
-Diane's Dollar Store and Napa Auto Parts... Diane's Dollar Store and Napa Auto Parts
-a 1909 First National Bank building is now... Security State Bank... 16th Ave. and Main St
-Fort Randall Telephone Company... Fort Randall Telephone Company
-the Tyndall Library... library
-Presbyterian Church... Presbyterian Church
-Methodist Church... Methodist Church
Tyndall Businesses
-Optometrists, Tiahrt and Torsney... 605-589-3406 open Mon thru Fri 9 to 5, Sat by appointment
Other Towns Nearby
Springfield, So. Dakota - 10 miles to the South
Tabor SD - 10 miles to the East
Avon SD - 20 miles to the West
See a map of where Tyndall is located
See a street map of the town of Tyndall
---