Tabor South Dakota
Czech Days Pictures
We drove to Tabor, South Dakota because we heard of an event that they hold there every year called Czech Days.
Tabor is located east of Tyndall. SD.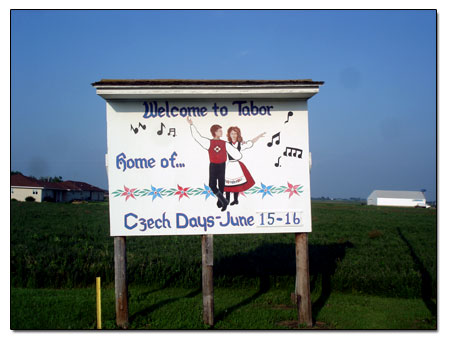 It was more fun than we even imagined, with all the colorful costumes, great food, and carnival rides all up and down Main Street.
More Pictures of Tabor SD
-View heading north on Main Street... Main Street view... another view
-They were also filming a motion picture... motion picture rules
-A view of the fun... Main Street fun
-Have a hot dog... fire department sells hot dogs... inside the fire station
-Firemen gear in the fire station... fireman gear
-Czech costume... Czech costume
-Tabor firetrucks... Tabor fire dist.... firetrucks... truck
-entrance to the park... Czech banner at entrance to the park... happy baby
-the music starts... the music starts
-a picture inside the cafeteria... Czech picture... dinner menu... the cafeteria
-June events... June events
Watch our short clip of the Czech dancers
---