The Town of Running Water
Pictures of the Museum
After we rode through Dante, SD we headed for the Ohiya Casino in Northern Nebraska. After passing Springfield, SD, we came to a sign for a small town called Running Water, and took the road to see what the town looked like.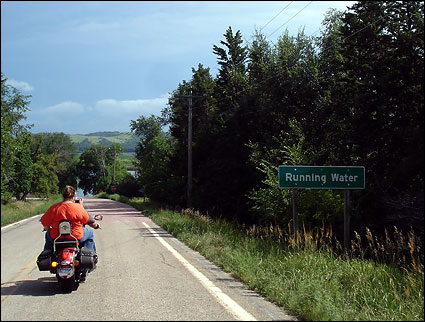 There wasn't a "downtown" at all. Where did it go? Read the town history. So we headed straight for the landing on the Missouri River.
Some town folk came and started talking to us. It turned out they were in charge of the Running Water Museum and asked us if we would like to see the museum, which of course we did.
More Pictures of Running Water & Museum
-the highway exit sign located near the Missouri River
-a sign for the Running Water Museum
-a sign for a cabin for rent
-the road to the landing... view of the boat landing
-public water access sign
-town history information board
-Missouri River Recreational map
-parking area... view toward dock... another dock view
-Rich's Vulcan, the Yamaha and Vlad
-no camping sign and no fires
-a view of the museum...
Continue traveling into Northern Nebraska
---