Visit Custer SD
Pictures and Information
What great fun we had visiting Custer SD. This quaint little town is full of little shopping spots and fun things to do. In fact, we enjoyed spending more time here than the surrounding towns of Hill City and Deadwood.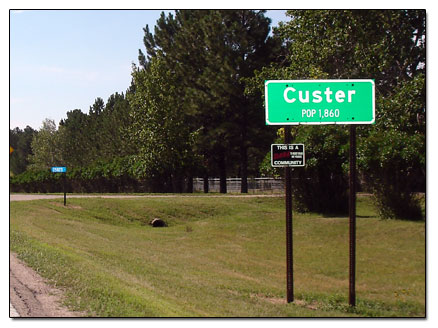 North of Custer, on Mount Rushmore Road, it is very scenic, and the landscape is unique to the area, like these jagged rocks.
We liked the looks of the town of Custer, it is touristy, but not as intense as what is on the East Coast. Custer has lots of souvenier shops, which are fun to browse, especially the Black Hills Gold shops.
We stopped at Ken's Minerals Trading Post, on the way back to Custer Mountain Campground, and did some browsing, but didn't buy anything, even though they had some real cool rocks, especially the pink quartz. We also asked where we could go goldpanning at, and she recommended Thunder Gold Mine in Keystone, or Wades Gold Mill.
September 2012, we went back to Custer and the Black Hills, and did some slider photography timelapse and called it: Fun in the Black Hills
Pictures of Custer and Shops
-A view of Custer heading east into town... cool view of Custer
-Welcome to Custer sign... Welcome to Custer
-A picture traveling on Highway 16 East, Hwy 385 North... Highway 16 East, Hwy 385 North
-North of Custer, Hwy 16 antique store... Hwy 16 popular antique store... another view
-Main St. turn right go to Mt Rushmore... downtown Custer... East Main St.
-LeRoy's Hotel, Bed and Breakfast is for sale... Leroy's Hotel
-Floras Gift Shop and Stampers Black Hills Gold... Stampers Gift Shop... see their ad
-Custer Gold Discovery Days... Custer Gold Discovery Days sign
-A set of sculptures in front of the Custer County Candy Company... horse sculptures
-All over Custer there are Buffalo Sculptures... see where they are located... here's another
-Gold Camp Supply has many unique gifts for shopping... Gold Camp Supply Store
-Pop's Grocery Shop... Pop's Discount Grocery Shop
-The northside of Main Street view... northside of Main Street view
-The Wedding Closet shop, tuxedo rental... wedding closet tuxedo rentals
-The Discovery Shop, Antiques and Collectables... Discovery Antique Shop
-Grizzly Gulch Adventure Golf... Adventure Golf
-Motorcycle Graphics and Paint Shop... Motorcycle Graphics shop
-Elk Ridge Trailer Park... Elk Ridge Trailer Park
-Scott's Rock Shop... see Scott's ad
-Custer Regional Hospital... info and phone number
-Real Estate Center of Custer... see their ad
Restaurant Pictures
-Elk Canyon Pub and Grill... Elk Canyon Pub and Grill
-Dark Horse Restaurant, Steak and Brew... see their ad
-Frontier Grill and Restaurant... Frontier Restaurant
-Gold Pan Saloon has a swinging door entrance... Gold Pan Saloon... location
-Purple Pie Palace ice cream shop... the Purple Pie Palace... another view... see ad
-Songbird Cafe and Gallery... see their newspaper ad
-Starbucks is located in the old bank building... starbucks
-We ate at Dairy Queen... see Dairy Queen ad
-Our Place Family Dining... Our Place ad
-Cattleman's Steakhouse and Fish market... see their ad

Custer Brochures
-Custer Shopping
- Custer Lodging
-Custer Restaurants
- Custer Attractions
- History of Custer
- Custer 2007 Events
- Gold Camp Shop brochure
Attractions in Custer
-Flintstones Bedrock City ... see the sign ... see the advertisement
- Four Mile Old West Town
- National Museum of Woodcarving ... located on Highway 16 west, phone 605-673-4404 Open May to late October
- Dakota Jamboree Music Show
- Woodcarving museum ... chainsaw carving
- Wild Bill's Buffalo Skulls
Watch Our Drive Through Custer
Pictures of Motels in Custer
-Custer, South Dakota - make an online motel reservation in Custer
- All American Motel, here's another view... located on Mt Rushmore Rd...
- Bavarian Inn and Restaurant, located north on Mt Rushmore Rd... see their ad
- Best Western Buffalo Ridge Inn 224 West Mt. Rushmore Road... another view
- Chief Motel 120 Mt Rushmore Rd
-Custer Motel... Custer Motel
- Comfort Inn and Suites 301 Mt. Rushmore Rd., West Custer
-The Dakota Cowboy Inn and Restaurant... an Americas Best Value Inn
-Days Inn 519 Crook St. see a picture of the Days Inn
-Econo Lodge has a pool and jacuzzi rooms... Econo Lodge
-Rocket Motel on Main Street... Rocket Motel
-Rock Crest Lodge... Rock Crest Lodge
- Strutton Inn B and B Rt 1 Box 55 S, West Custer... another picture
- Super 8 Motel 415 W. Mt. Rushmore Road
-Travelodge 342 Mt Rushmore Road

Related Pages
Crazy Horse Memorial
Custer Campgrounds
Custer State Park
Mt. Rushmore
Jewel Cave National Park
Hill City, SD
---