Hill City SD Shopping
Ride the Train! Pictures
Hill City is a small town north of Custer SD, and if you are traveling to Deadwood you pass through this quaint little town.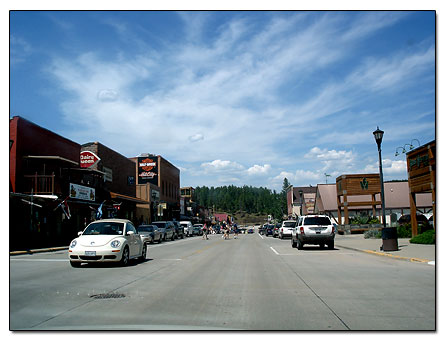 Much to our delight, Hill City has no parking meters. That means you can find a spot and stay as long as you want, which is exactly what we did. We parked, walked north on Main Street, crossed over and walked down, stopping and browsing the shops of course.
We didn't realize until after the fact, that they have a 1880's train here, that will take you on a scenic tour around Mount Rushmore and into Keystone, SD. See the 1880 train schedule. They also have a gift shop with lots of souvenirs, and a restaurant where you can eat or buy a box lunch to take on the train. All aboard! Sorry, the train is full.
1880's Train, Black Hills Central Railroad... Enjoy a relaxing, scenic, historic and fun 2 hour ride your family will never forget. Round trip departures from Hill City and Keystone, May 7th through October 7th, call toll free 1-866-FOR-1880 for more information, reservations, or group rates.
Hill City Shopping
-entering Hill City downtown... downtown
-Hill City Fire Department... Hill City Fire Department
-Bargain Barn looks like a great place to shop... the Bargain Barn
-Spring Creek Traders... Spring Creek Traders shop
-Harley Davidson store... Harley Davidson store
-Gold and More... Gold and More
- Art Forms... 25 artists offering original works, located at 360 Main St. phone 605-574-4894
-Sheridan Lake north on Hwy 385... Sheridan Lake north sign

Hill City Restaurants
-Desperados Cowboy Cuisine... Desperados restaurant
-Alpine Inn looks like a popular spot... Alpine Inn... another view Open Mon - Sat, closed on Sun. Seasonal veranda dining.
-Continental Cafe... Continental Cafe
-Route 16 Diner... Route 16 Diner sign
-Hill City Cafe... Hill City Cafe
Hill City Attractions
-a sign for Wonderland Cave and Nemo, SD... sign for Wonderland Cave-
Black Hills Museum of Natural History... Black Hills Museum
- Everything Prehistoric... Venture into another world, a world of dinosaurs... located at 117 Main Street, phone 605-574-3919
- Prairie Berry Winery - wine tasting award winning wines. Open Daily, located on Hwy 385 3 miles northeast of Hill City
Popular Hill City Motels
Hill City, South Dakota - Click here to reserve a room in a Hill City motel
-Alpine Inn - call 605-574-2749 Centrally located on Main Street, lodging available
- Comfort Inn Hill City 678 Main Street
- Holiday Inn Express Hotel Hill City, Sd 12444 Old Hill City Road
- Best Western Golden Spike Inn Highway 16 and 385
-The Lodge at Palmer Gulch 12620 Hwy 244
- Super 8 Motel - Hill City/Mt. Rushmore 209 Main St.
-the Harney Peak Motel... Harney Peak Motel
-the Trail's End Cabins and Motel... Trail's End sign
Our video of the train leaving
Some Articles
-Read an article from the newspaper about the Competition between Railroads in 1891
-See an old train picture... old train picture at Hill City
---