Interstate 90 Exits in SD
Pictures and Information
If you plan on traveling Interstate 90 from Rapid City SD, here is some information and pictures of what is located at the exits. You can print out this page and take it with you if you like. Interstate 90 runs the full width of the state through the center, from Rapid City to Sioux Falls.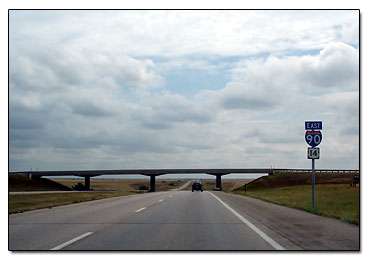 When you leave Rapid City traveling East, the exits start at Exit 60. A sign will tell you that you are 360 miles away from Sioux Falls.
Most of the way heading East you are going to see a lot of billboard signs for Wall Drug. Be sure you stop there, you will really enjoy yourself.
Click on the exit number to view a picture of that exit.
Exit Number...... Exit Information
56 - RAPID CITY... Haynes Ave
59 - RAPID CITY.. La Crosse St.; (gas, food, lodging) Motel 6; Hampton Inn; Grand Gateway Hotel, Quality Inn; Perkins; Exon Gas Station, Comfort Inn, AmericInn, Adventure Golf Pirates Cove, open daily 9am to 10pm. Holiday Inn Express, Econo Lodge
60 - Entrance to I90; East North Street; School of Mines and Geology
61 - Mt. Rushmore; Crazy Horse Monument; Black Hills Visitor Information Center; Truck Hwy 16; South Hwy 79; Regional Airport; Western Dakota Tech Institute; Highway Patrol; McDonalds Restaurant; Flying J
66 - Box Elder; Old Hwy 14
67 A - South Box Elder; Liberty Boulevard; Ellsworth Air Force Base Main Gate
67 B - South Dakota Air and Space Museum
78 - New Underwood; 161st Avenue
84 - 167th Avenue; Old Glory Fireworks
88 - 171st Avenue; Exit Only, no reentry to Eastbound Interstate 90
90 - 173rd Avenue
98 - WASTA; RVPark, Baseline Road, Redwood Motel
Crossing Cheyenne River
REST AREA; see rest area pic... another rest area picture
101 - Jensen Road; Schnell Ranch
107 - Cedar Butte Road
109 - WALL... Wall Drug and Tourist Attraction; Cactus Cafe, Buffet and Lounge; Anne's Motel and Cabins, Americas Best Value Inn, Best Western
110 - WALL... Badlands National Park Scenic Loop, Motel 6, Super 8 motel; Days Inn; Econo Lodge, National Grassland Visitor Center, Sleepy Hollow Campground, Glenn Street
112 - PHILLIP... PIERRE State Capital exit, Badlands; Quinn exit
116 - 239th Street
121 - Big Foot Pass Road (Badlands 7 miles south)
Jackson County Line
127 - no advertising; CS23A-B
131 - Badlands Loop Scenic Byway; Prairie Homestead; Circle 10 Campground; Cactus Flats
143 - PHILLIP... Hwy 73 north; (hospital turn right at end of exit, go 15 miles); Seven Mile Corner
150 - KADOKA; Lakota Oglala College; Best Western; Budget Motel
152 - South Creek Road; Badlands Petrified Gardens; BP Gas Station
163 - BELVIDERE
REST AREA see picture... another pic
170 - MIDLAND... 1880 Town; Highway 63 north; KOA Camping
172 - Road Construction (rebuilding overpass)
ENTERING CENTRAL STANDARD TIME (or Mountain Standard heading west)
177 - no advertising; Route 6511
183 - OKATON... sign for a ghost town Emailed Comments: Hi...just browsing the net and noticed your site makes it sound like Okaton, exit 183, is a rest area with no facilities. I realize what it actually says, but I would like it very much if you could give Okaton some recognition. Okaton was once a thriving farm town, depleted of residents mainly by the Dirty Thirties and depression. But, you can still buy gas, goodies, rocks and other treasures at the Ghost Town stop. The Milwaukee railroad arrived in 1907 and the grain elevator built at that time still stands. Other old buildings where families once lived, worked, loved and played are crumbling, adding to the ghost town affect. At the moment only 4 houses are lived in. Another family will return when school starts in nearby Murdo. We may be small, but we are still here....more than an exit number. Thanks. Clarice R
REST AREA - no facilities
191 - MURDO... Days Inn; American RV Park, Best Western; Star Family Restaurant, Hometown of US Senator John Thune
192 - MURDO... Super 8 Motel; Pioneer Auto Family Attractions, White River, Rosebud Sioux Tribal Headquarters; Sinte Glesta University
201 - DRAPER; gas station
208 - no advertising
212 - PIERRE exit, North 83; Hwy 53, Fort Pierre, Pierre State Capitol, gas hospital, food
214 - VIVIAN; Cultural Heritage Center; Oahe Dam; World War 2, Korean and Vietnam War Memorials
REST AREA- see picture
220 - no advertising
223 PRESHO, gas food lodging, next 2 exits; New Frontier Station Campground; see the Presho water tower
226 - exit here for town of Winner
228 - KENNEBEC (Interstate begins 2 lanes because of construction for 16 miles) road construction... road construction
235 - KENNEBEC; Hwy 273, gas, KOA camping, Gerry's Budget Host Motel, King's Inn, view of Kennebec
241 - ?
248 - RELIANCE; Highway 47, Golden Buffalo Casino (15 minutes north), Lower Brule and Crow Creek Sioux Tribal Headquarters, Big Bend Recreation Area
251 - exit for Gregory, Winner; view of I90 East
260 - OACOMA; CHAMBERLAIN, Oasis Inn, Al's Oasis Restaurant, Campground, Motel, Pool, Old West Trading Post, Holiday Inn Express, exit 260 lodging, Cedar Shores Public Boat Ramp and Recreation Area, view of Oacoma, Oacoma tower
263 - CHAMBERLAIN; Akta Lakota Museum, South Dakota Hall of Fame, American Creek Recreation Area; St. Joseph Akta Lakota Museum, McDonald's, exit 263 lodging
Bridge over the Francis Case Lake see picture... lake bridge
REST AREA see picture
265 - lodging, camping, Vet's Whoa and Go
272 - PUKWANA; Hwy 50; Snake Creek and Platte Creek recreation areas
Overpass Construction
284 - KIMBALL; Dakota Winds Motel; gas station; Super 8 Motel; Tractor Museum
289 - PLATTE exit; Hwy 43
entering Aurora County
296 - WHITE LAKE; White Lake Motel, gas, food, lodging, campground see the 296 exit
REST AREA see picture... another view Emailed Comments: David B. wrote: According to RoadsideAmerica.com, there is a tiny church at the rest stop at I-90 East mile 301. We haven't been there yet, but will be looking for it when we go through SD in September. Rest Stop Tiny Church - Eastbound Address: I-90, White Lake, SD Directions: At the back of the eastbound I-90 rest stop at mile marker 301. http://www.roadsideamerica.com/tip/4441 Update from David: We did see the tiny church at the rest stop at I-90 East mile 301 It is behind the rest stop building. (see tiny church location.... front of the tiny church.... inside the tiny church). As we got back on I-90 East, we were able to see that there is also a tiny church behind the westbound rest stop. P.S. I was rather surprised to find that there seemed to be more rest stops and exits with services from Rapid City to the eastern border than there were in Nebraska and eastern Colorado and Wyoming & South Dakota from I-25 North to Custer. Before our trip, I had the impression that Rapid City (and the Badlands) to the eastern border would be desolate. David B. Holt, MI
308 - PLANKINTON; Smart Choice Inn
310 - exit for Fort Randall Dam, Huron; Yankton Sioux Tribal Headquarters, Stickney, Aberdeen, Hwy 281
319 - MT VERNON
325 - Betts Road, Family Fun Campground KOA
330 - MITCHELL; Anthony Motel; Holiday Inn; Hwy 37 north exit, Dakota Wesleyan University, exit 330 lodging
332 - MITCHELL; exit 332 lodging, Hwy 37 south exit; Tech Institute, Super 8 Motel; R and R RV Park; Quality Inn, Kelly Inn, Days Inn, Hampton Inn, Walmart, Cabelas, Menards, Pilot Travel Center, Thunderbird Lodge, Ron Dees Campground, see another pic; exit for Corn Palace and Prehistoric Indian Village; Exit for towns of Ethan, Dimock, Parkston, Delmont, Tripp
334 - ALEXANDRIA; Our Lady of Fatima Shrine
350 - Hwy 25
353 - 431st Avenue
357 - 435th Ave
364 - Highway 81
368 - 445th Avenue
374 - 451st Ave - Lake Vermillion Recreation Area 5 miles south.
379 - HUMBOLDT; 456th Ave
387 - Hwy 151
390 - 466th Ave.
396A - SIOUX FALLS; Interstate 29 south/north
Dakota Roadtrips
Roadtrip East Hwy 18 to 44 to Custer State Park
Lewis & Clark Trail, from S Dakota to N Dakota
North Dakota Roadtrip
Weekday Getaway to Snake Creek Campground
Southern SD map
---