PTPlus Newspaper
Tripp Parkston News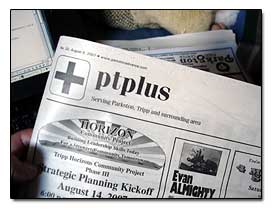 What is the PTplus? The PTplus is a local newspaper covering the small towns of Parkston, Tripp, Kaylor, and other little communities in the Southern South Dakota. We get ours delivered every week on Wednesday. It is a small newspaper, usually only 8 pages, even though the back page says there are 14 pages. Huh? Maybe they are including the inserts?
This newspaper covers local events and "what's happening," and carries the local classified ads, rummage sales, places for rent, business services, and things for sale..
If you don't have access to this little newspaper, you can sort of check it out here, because the PTplus newspaper is not available to the public for free, just the classified ads. I also haven't been able to locate the Tripp Star Ledger online, except an old page, and I'm beginning to think that this newspaper is included in the Parkston Advance online subscription, unless you purchase it in Tripp at the former Webers grocery for 75 cents.
The Parkston Advance online
The entire Parkston Advance is available as an online subscription. The update to the online edition is Friday, but does not include the Dakota Action Rocket, which is like a classified section. You can also search the last 90 days of The Parkston Advance. That means you can search through 12 past issues. Click here to subscribe for $35.00 per year
So, that's the good news. The bad news is that if you don't have a subscription to the Parkston Advance which includes the PTplus newspaper and the Tripp Star Ledger, then you are clueless as to what is happening in your local area.
Dakota Action Rocket.. 605-928-3111 or 1-800-310-3140
The Parkston Advance...205 W. Main St. (605)928-3111
Other Local Newspapers
-The County Extra covers Corsica, Platte, Armour and Wagner SD phone 605-946-5489
-The Corsica Globe, The Armour Chronicle, The Delmont Record
-The Missouri Valley Shopper - mainly Yankton, SD
-Ag and Auction
- Mitchell SD Newspaper
- Pierre SD Newspaper
More South Dakota Newspapers and TV stations
- Argus Leader - Sioux Falls
- Capital Journal - Pierre
- Daily Press & Dakotan - Yankton
- KDLT TV - NBC - Sioux Falls
- KELO.com - Sioux Falls
- KELO TV - CBS - Sioux Falls
- KOTA TV - ABC - Rapid City
- KSFY TV - ABC - Sioux Falls
- Daily Leader Extra
- NewsLink - South Dakota Newspapers
- Plainsman - Huron
- Rapid City Journal
- South Dakota Public Broadcasting
- The Aberdeen American News
- The Brookings Register
- The Daily Republic - Mitchell
- Watertown Public Opinion
---